Jeff Wayne on creating a musical adaptation of The War of the Worlds
As The War of the Worlds album celebrates its 40th anniversary with a tech-enhanced and boundary-pushing live show touring UK arenas in late November and throughout December, we talked to composer and producer Jeff Wayne about crafting a musical adaptation of HG Wells' classic and why it's important to keep adding new elements to the stage production.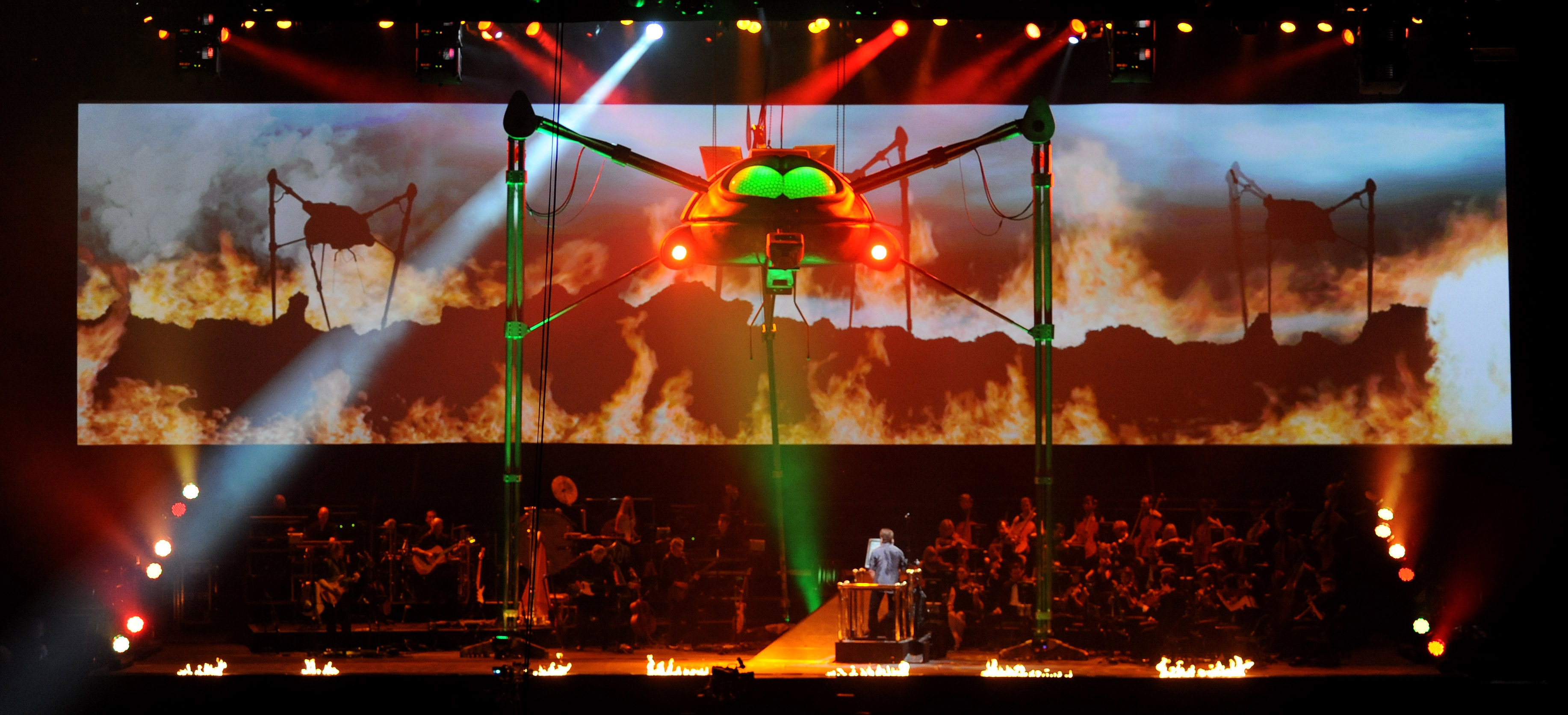 Jeff Wayne's career has not been short of musical achievements; from translating sci-fi novel The War of the Worlds into an album and stage production to collaborating with numerous talented performers and composing TV and film scores. From an early age Wayne was destined to work in the creative industry. His father, Jerry Wayne, was a writer, singer and actor so young Wayne grew up in the US surrounded by musicians, artists and other talented creatives.
"My father then landed a starring role in the musical Guys and Dolls in the UK so I moved there with my parents and my love for music and entertainment just stayed with me from then on. Four years later, when we moved back to New York and I graduated from high school, I started playing keyboards in bands and writing songs. That was the beginning of my musical career," says Wayne.
Some years on his father's transition into producing and writing lyrics took Wayne back to the UK where he worked on West End musical Two Cities at the Palace Theatre in London which was based on Dickens' A Tale of Two Cities. "My father took a huge leap of faith and commissioned me to come over from the States and compose the score. It was an opportunity of a lifetime," he says.
Following the show's success, Wayne stayed in the UK and was approached to create music for adverts, TV theme tunes and film scores; a period which saw him work with a variety of recording artists and bands and marked the early stages of his journey to becoming a renowned composer, orchestrator and conductor.
Passion for the story
The inspiration behind creating a musical version of H.G Wells' classic tale, The War of the Worlds, originated from Wayne's father, who introduced him to the Victorian-set story while he was writing and producing for an eclectic mix of media and artists.
"He reminded me that one of my goals in life was to find a story I could be passionate about and then see where the accompanying composition would take me," says Wayne. "One day my father visited to wish me luck before I went out on tour with an artist I was producing. He came bearing a gift – a copy of The War of the Worlds.
"The very dark Victorian tale had so many powerful messages and was relevant to the current themes in our lives. That was it for me, I was hooked after the first reading and immediately knew that was the book I wanted to translate into a musical form."
However, the book was still under copyright and it took three months of research and persistence before Wayne and his father presented their proposition to HG Wells' son Frank, who had inherited the rights. "I explained I wanted to turn his father's incredible story into a musical interpretation whilst staying true to the characters and storylines and keeping it very much in the Victorian era," says Wayne.
His dedication to honour the original story impressed Wells, as did being approached by a father and son team, and as a result he agreed to sell them the rights. But where do you begin when translating such a classic story into musical form? Wayne reveals how he approached the daunting task: "One thing that initially struck me was that it wasn't a very long novel – around 150 pages."
After further research Wayne discovered The War of the Worlds was not originally written as a book, but as an episodic adventure for UK magazine Pearson's and then Cosmopolitan in the US. The stories became so popular that Wells' publisher asked him to thread them all together to form a book.
"From a musician's point of view, the first chapter of the book – The Eve of the War – seemed like an overture because the story tells you very little," says Wayne. "You just learn something is out there and it's all viewed through the eyes of an astronomer and a journalist. The astronomer, Ogilvy, says to the journalist, 'It's nothing to be concerned about. The chances of anything coming from Mars are a million to one.' And that's all you learn in that first chapter, so that was my overture. I wanted to grab the listener's attention without giving away too much."
The process of recording and mixing that followed spanned two and a half years, with six weeks dedicated to composing the first draft and a similar amount of time spent completing arrangements for the band sessions, before adding symphonic string orchestras, guest artists, additional instruments and then mixing them together.
Compiling an all-star cast
Selecting musicians to work with and picking the instruments and effects to feature was a complex but enjoyable activity. "I think it was largely prayer and hope that led to me to compile such a distinguished cast," laughs Wayne, "starting with Richard Burton, who had such an amazing voice. It just fitted the bill for him play The Journalist who had survived a Martian invasion."
It was a friend's rave review of Burton's performance in theatre production Equus that prompted Wayne to consider the Hollywood star for the role. Having found out which theatre Burton was performing at Wayne wrote a letter introducing himself and his father, outlining the rights they had secured to interpret HG Wells' classic and asking whether he would take on the role of The Journalist.
"I included the first draft of the script and sent it to the stage door of the theatre," says Wayne. "A few days later I received a call from Robert Lance, Richard's manager in the US, telling me Richard loved the project and to count him in.
"My father literally did the deal over the phone; it was so easy. It wasn't like working with some musical artists when you have to deal with all sorts of agents and contracts. Richard was on board very quickly and then we built it from there with the other artists."
Wayne originally composed a piece to accompany the beginning of the album, but when recording began he felt Burton had such a presence that the passage should remain free from any musical accompaniment, leaving the listener to give Burton's voice their undivided attention.
When building the all-star cast, Wayne added singer David Essex to the bill, an artist he had produced and toured with for around four years. As Essex was already a good friend it made it easier to ask him if he would consider playing The Artilleryman, a common soldier who has the vision to take back the earth from the Martians. "The common solider was also a very cheeky chappy with a lot of charm which was very much like David," says Wayne. "It was quite a large role with a lot of singing and some acting and he was brilliant at playing him."
The live arena
For many years after the album's release Wayne was unable to bring the ambitious War of the Worlds live production he envisioned to arenas because the technology was either unavailable or too expensive. By 2006 he felt there were enough available options to help turn the album audiences at home had enjoyed for almost 30 years into a large-scale multimedia adventure.
Creating a live production is a very different beast to recording an album and Wayne was fortunate to have brought a friend with a talent for story-boarding – on board to help. Together they analysed the album from a storyboard point of view, frame by frame, just like a movie.
"It looked very much like a film or TV storyboard, with many visual ideas, all timed out precisely in relation to the score. We just built the show from there," says Wayne. "I had many ideas that turned out to be impractical or too expensive, but by the time we'd completed the storyboard and could see the project was achievable the production team began to grow and I recruited a stage director and production manager."
Aside from the myriad rewards that came with bringing the album to the stage, Wayne gets another buzz from the experience, when he takes his position in front of the audience to conduct the orchestra. Most of the musicians he conducts have been with the production since it started touring and a few even appeared on the original double album.
"I love the creative stages, when you are writing and producing in the studio it's a beautiful experience and conducting is such an exhilarating creative form."
"There's something so special about live performance; if you make a mistake you can't just stop and do it again. It's the energy that comes from the people that are performing, not just the musicians but those on stage and hopefully I give out plenty of energy myself," he says.
"I love the creative stages, when you are writing and producing in the studio it's a beautiful experience and conducting is such an exhilarating creative form. I'm on stage with a fantastic band and symphonic string orchestra while everything is going on around me, behind me and over the audience."
Wayne admits he never quite knows what he is going to do on stage from one show to the next: "I jump, I play air guitar, whatever takes me in the moment. It' a privilege to be able to do this with such talented musicians and performers and I've never missed a show, including the 88-show run we did in 2016 at The Dominion Theatre in the West End."
Re-inventing the production
It's been almost a decade since The War of the Worlds was first brought to live arenas. Wayne, who now lives in Hertfordshire in the UK, has evolved the show with every outing, touring arenas around England, Europe and as far afield as Australia and New Zealand every year and a half to two years. But building a show of such epic proportions is a lengthy task and by the time the first show opens in November at The Hydro in Glasgow Wayne and the team will have been working solidly on the project for more than a year and a half.
"It's been a living work and I put in a lot of time to try to expand it into something even better than the previous production, which this time around included composing a new piece of music."
This year's incarnation of the show is also being enhanced by a variety of technological innovations, some of which have allowed the production team to introduce new types of interaction. "Richard Burton was involved with the first six tours before Liam Neeson took over the role of The Journalist," explains Wayne. "Now holographic technology is allowing Liam to appear on stage, interacting with the other artists."
Alongside levitation effects and a 100 ft animation wall that interacts with the audience, another new ingredient at this year's show will give them a chance to get even closer to the action. The piece called Brave New World, which outlines the Artilleryman's vision for survival, was originally performed by David Essex on a bridge on a stage that descends in the second half of the show.
"This time around that bridge has grown in size and will appear in the audience. In the biggest arenas we will play – Manchester Arena and The O2 – it spans half of the ground floor. As we get to the smaller arenas it literally goes all the way back to the front of house mixing desk. It's a physical experience for the audience because some of them will be sat underneath the bridge, looking up. It's about creating a more direct experience that breaks through the fourth wall."
Some old favourites will also make a welcome return. The 35-foot, three-tonne Martian fighting machine which has been a part of the show since its inception will once again be firing flames into the audience.
I ask Wayne what else he is looking forward to about this year's production. "Getting back on the podium and conducting," he replies. "We've made sure there are some nods to the original album and how it all began, but I believe this production will top anything we've done previously."
As The War of the Worlds touring production continues to entertain and captivate audiences 40 years after the album was first released, Wayne reflects on what he believes has been key to its success: "I think the combination of the music and the interpretation of this amazing story found an audience right from the start. Ages all across the board enjoy it, from young children who want to see a giant fighting machine that fires heat rays at the audience to those who bought the album when it first came out.
"It's so rewarding when you see a large turnout at the biggest arenas. It's more than I ever anticipated and looking back at all these years of shows, the experience has been phenomenal."
To find out more about the tour and to buy tickets click
here
.
Topics
Interviews
Live Performance & Production
Music